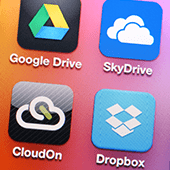 Lack of storage space is something we all have to deal with at some point. You'll be forced to delete some seemingly unnecessary files, only to find out that you actually needed them later. What would you do? Dropbox offers a quick fix with its new Professional plan. Read on to learn more.
Stop worrying about storage space
Gone are the days when you have to regularly remove, relocate, or reorganize files stored on your hard disk because there's not enough space. Dropbox has recently introduced a new plan, Dropbox Professional, aimed at self-employed professionals and entrepreneurs. And it comes with a new feature called Smart Sync.
Smart Sync allows you to choose any file or folder stored in your computer's Dropbox folder and send it to the cloud, thus freeing your hard disk space.
What's great about this feature is that all the "online-only" files and folders will still be visible on your desktop, allowing for convenient access. You can view, rename, remove, or preview those files and folders easily from your computer, just like you can for regular files.
It also comes with an array of extra features, such as advanced sharing controls that include remote device wipe, password-protected and expiring shared links, detailed viewer history, and priority support with the Dropbox support team.
Let's welcome Showcase
Another exciting feature of Dropbox Professional is Showcase. Instead of organizing your files in a traditional folder, now you can arrange them on a "branded page" with customized layouts, captions, visual preview and show them to the world. This PowerPoint-like page is a great tool for designers, marketeers, or any entrepreneurs who have to present their work to potential clients.
You can also see who viewed your file, as well as how they might have interacted with it (e.g., by downloading and/or commenting whatever work your share).
Any type of file can be shown on Showcase except video files which, for now, can be presented only as a static image. Dropbox will roll out a support for this soon. And the good news is: Showcase doesn't take up your Dropbox space.
Pricing
$19.99 a month or $199 a year is the price you have to pay for Dropbox Professional and its extras. The plan comes with 1TB storage and allows you to recover old versions or restore deleted files from the last 120 days.
Let's see whether the new Dropbox plan can compete with other cloud-storing products in the market, including Box.com, which costs only $15 a month (but has fewer features).
Using productivity apps is one way to help you become more efficient. But there are also many other ways in which technology can help improve your efficiency. Why not contact our IT team today? Our staff knows how to turn technology to your advantage, and they'll be more than happy to talk to you!
Published via TechAdvisory.org.
Source.