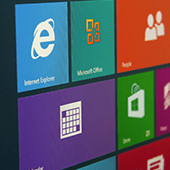 As a convenient cloud solution, Office 365 boasts nearly 30 million users. But that's nothing compared to licensed versions of Microsoft's productivity suite, which have more than one billion users. Office 2019 was announced in September and it will mean big changes for businesses that want simpler versions of Word, PowerPoint, Excel and more.
Microsoft Office 2019: release and features
For the past ten years, Microsoft has updated its suite of productivity software every three years. The current version is Office 2016, and in sticking with the schedule Office 2019 will be available for purchase at the end of next year. However, previews of the next version will become available several months before the final release.
According to Microsoft, the newest version of Office will include:
The usual Office applications (Word, Excel, PowerPoint, etc.)
Office server programs (Exchange, SharePoint and Skype for Business)
Security and IT management enhancements
Improved "inking" features for touchscreen usability
Streamlined data analysis features in Excel
New PowerPoint presentation features like Morph and Zoom
Office 2019 vs. Office 365
The biggest difference between Office 2019 and Office 365 will be price. For the former, users pay a one-time fee to acquire a software license. Once users have a license, they own that version of Office forever (although Microsoft will stop providing support 10 years after the product is released).
With Office 365, users pay a monthly subscription fee and can use applications as long as they don't fall behind on the bill. Programs included in the Office suite can be accessed online or installed locally (as long as you connect to the internet at least once per month).
Thanks to cloud technology, Office 365 can be updated much more easily than other versions of Office. O365 users will probably have access to Office 2019 features around the same time as its release, possibly sooner.
Much like an O365 subscription, our managed IT services are charged based on a flat monthly rate. We can help your small- or medium-sized business enjoy all the benefits of the cloud. Just give us a call today.
Published via TechAdvisory.org.
Source.